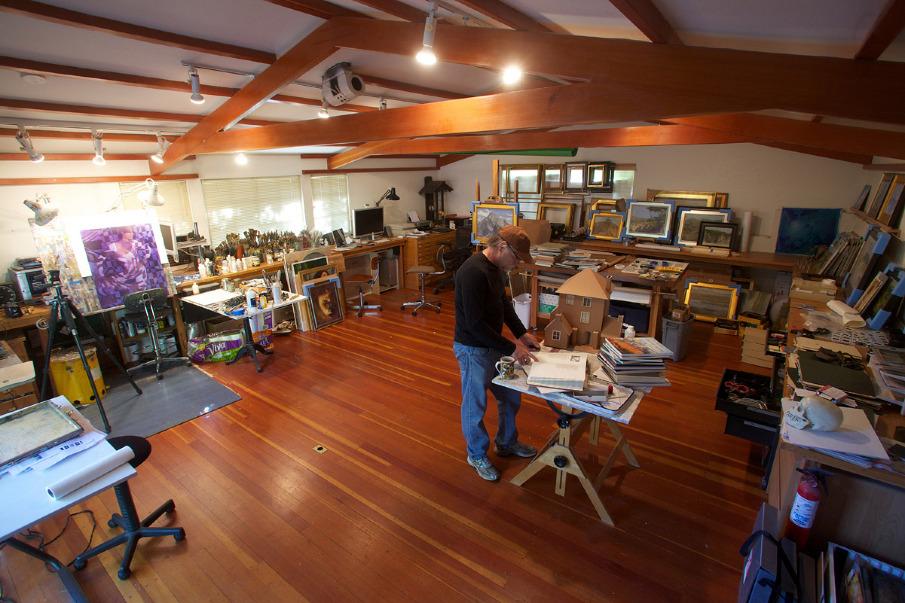 Robert Hunt's professional accomplishments include two of the highest awards in illustration, the Hamilton King Award (2015) and the Distinguished Educator in the Arts Award (2017) from the New York Society of Illustrators. His work has appeared regularly in the  annual professional shows at the Museum of American Illustration, as well as the American Illustration, Spectrum Fantastic art, and Communication Arts award annuals. 

He has created illustrations for a wide variety of projects including editorial illustrations for many major publications, hundreds of book covers, and numerous special projects including the animated Dreamworks and BroadGreen Pictures motion logos, advertisements, annual reports, packaging, and documentary projects on the Bay Bridge Earthquake reconstruction and the Tour de France. 

Robert Hunt is also an Associate Professor at the California College of the Arts where he teaches Illustration, professional practice and painting.
 
Links
Distinguished Educator award: Introduction by Tim O'Brien
Interview: Your Dreams, My Nightmares podcast with Sam Weber
Robert Hunt, Society of Illustrators 

Clients include:
Nike
Time Magazine
Rolling Stone
Random House
American Red Cross
Asset International / Plansponsor
AT&T
Dreamworks
The Atlantic
The New Republic
The Wall Street Journal
Penguin Books
Tor.com
Bank of America
BroadGreen Pictures
Criterion Collection
Der Spiegel
Detroit Pistons
Disney
Federal Express
Fetzer Vineyards
Folio Society
Harper Collins
LucasFilm
Pendelton
Scientific American
Simon and Schuster
Sterling Publishing
Universal Studios
...and many others

Awards include:

Hamilton King Award , Society of Illustrators 2015
Distinguished Educator in the Arts award 2016, Society of Illustrators
Communication arts awards 
Los Angeles Society of Illustrators 
San Francisco Society of Illustrators (11 gold and silver medals)
Many others

Exhibits include:
Facin Humanity, Northeastern University, 2017
Arte Verissima Gallery, one man shows, 2011, 2013
Museum of American Illustration annual shows 1983-2018
Museum of American Illustration: Earth: Fragile Planet, 2010
Museum of American Illustration: Paintings and Illustration retrospective, 1996
Pasadena Art Museum-California Art Club Gold medal show, 2010
'Where Is My Vote? Posters for the Green Movement in Iran', 2010
Periscope Gallery, one man landscape show, 2010
Museum of Applied Art, Frankfurt Germany, 2006
United Nations Environmental Project
Los Angeles Society of Illustrators
San Francisco Society of Illustrators
Many others

Publications include:

Communication Arts (magazine and Illustration annuals)
American Illustration
Spectrum
Print
Fine Art Connoisseur
The Illustrator in America 1860-2000
Teaching Illustration, by Steven Heller
The Illustrator and the Environment
Outstanding American Illustrators Today Vol.1 and 2 (Japan)
Greatest Illustration Show (Japan)
Die Kunst des Spiegel
Japan creators Association (JCA) Annuals # 6, & 8, 9
 

All images on this website © Robert Hunt 2018